Portrait of the Artist as a Young Man (apologies to Joyce)...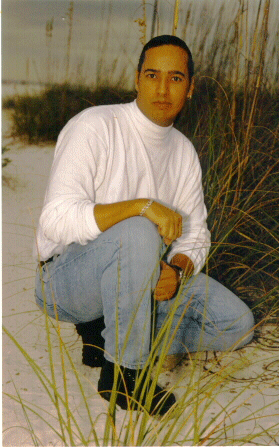 Ok...here I am. Todd L Holsopple. I grew up in Sarasota on the West Coast of Florida. I studied Piano from age 5. I played in various bands thoughout my early teens (my first being a group called ShockWave with a friend of mine, Brian who played drums. We were 12 years old). One summer in 1985 it hit me while watching the movie "Back to the Future" ... I want to be a musician when I grow up (yeah...it's corny...so what? What were you doing that made you want to become a fireman?). I played in the Riverview High School Jazz band, and naturally, decided to enroll in the Jazz Program at the University of Miami. Miami has one of the top jazz programs in the country (second only to North Texas State...go figure!). One of my secret reasons for wanting to go there was that the head of the Jazz Piano Program (Vince Maggio) was responsible for such greats as Clay Ostwald (Miami Sound Machine), Bruce Hornsby (Bruce Hornsby and the Range), Lyle Mays and countless other famous musicians. I found Mr. Maggio difficult, to say the least. I ended up quiting the Jazz Program and coming home to pursue my other interest...computers. I did learn much from my experiences at Miami, especially from the base instructor Mr. Coffeman and my "Rock Class" instructor, Matt Boneli (Rock Class...what a concept, eh?). My "Rock Class" experience actually produced at least one successful musician...out bass play, Brian Yale, is a founding member of the band Matchbox Twenty!
I then played in various bands in Sarasota with such notables as ex-guitarists from the Outlaws and the Nitty Gritty Dirt band. Southern Rock, however, was never my cup of tea and I ended up spending most of my time recording stuff at home. After a job offer from a software company in California, I moved to Sacramento. Travelling for work prevnts me from actually playing out (and I actually enjoy studio work much more), but I keep busy in the studio, writing and recording original songs. My ultimate dream (besides the one of being the most popular rock musician of all time...with millions of adoring fans) is to do film scoring.
My style....let's see. It's gone through many changes over the years. I loved the stuff that came out of the middle 80s. I feel that I am definitely influenced by such groups as: Tears for Fears, the Fixx, Def Leppard and the Outfield. I also have a heavy-metal influence to from such groups as: Queensryche, Dokken, Ratt, etc. The Jazz influence never really took hold. The stuff that I write now comes out somewhere between 80's rock and roll and erie film music ala Danny Elfman, Michael Kamen, etc.
[Studio Diagram][Studio Gear][Back to Main]
---
©1998 by Todd L. Holsopple
Hosted by: ipowerweb.com
Last updated: 21-March-2003