---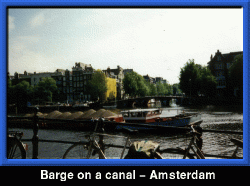 When I reached back to those fuzzy adolescent years in high school and my vast life experience to recall what I already knew about the Netherlands, I only found fragments: guys with wide brim hats that decorated a cigar box, the "Dutch East Indies" trading company, a crazy artist who cut off his ear, and of course the legendary vices of Amsterdam (namely drugs and prostitution...somehow, I think that this one didn't come from High School History!). As usual the real thing turned out to be all of these things, none of these things and more. The Netherlands' only international airport, Schiphol, is about 15 km outside of the 'old city' and (like most places in Europe) only about 20 minutes by train to the Centraal Station. This has to be one of my favorite airports in the whole world. While not as aesthetically pleasing as Charles DeGaulle Airport in Paris, Schipol is just a very friendly, well organized place. There are all sorts of interesting shops ranging from flower shops (tulips, remember?) to luggage. On my last trip to Arnhem, I only had the day to spend in Amsterdam. Schipol has extremely large luggage lockers (and for those really large loads, a great Left Baggage department). The train into the Centraal Station takes you underground and through parts of the 'New City'. Since these are usually "double decker" trains, grab a seat up on top for the best views.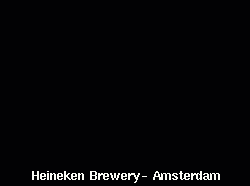 I was a bit nervous on my first trip to Amsterdam: My travel agent was unable to find me a reasonable hotel in the city (This is not usually a problem, but $200 US a night is a bit steep). Not to worry. In almost every major Europen City there is a Tourist Office at the train station (or in the case of Amsterdam, right across the street) that will set you up in a hotel of almost any price rage for about $2. These people are extremely friendly and usually very young and hip. You can arrange a room and they will tell you about the hip places to go, what sections of the city to see and almost anything you could imagine. While you are hear, stop next door and buy a transport tation pass (for about $5) that will allow you to use all of the city's busses, trams and water taxis for 24 hours. Don't forget to validate the pass on your first ride, using the timestamp machine on the tram or bus. On any first visit to a foreign county, I am a bit aprehensive about the ability to communicate with the people, either in English or their native language. I always arm myself with at least a few phrases in their language in case I get stuck. Amsterdam? No problem...everyone from the youngest high school student to the oldest taxi driver speaks excellent English which is a good thing: Dutch is pretty complicated and I had neglected to learn any of the aforementioned phrases, with the exception of "Dank U Wel"). In fact, people in line ahead of me at the Tourist Office were phrasing their requests in French, German, Spanish...you name it (I had thought of trying my request in French, but I am just not quite there yet!) Armed with a reservation at a very reasonable hotel (the Villa Borgmann on the Koningsplein, just off Vondelpark) and the directions (Tram number 6 from the Centraal Station), I set off. About the only problem with trams is the size. I do not recommend trying to board with a very large suitcase! The trams run on railroad tracks and cover a good portion of the old city. They usually have three sections which swivel on a round platform to accomodate the many turns of the train tracks (for an interesting experience, stand inside one of these round turning points for you journey and watch people ahead of you and behind you start to swivel when the tram takes a corner)! Once ensconsed in my small (hey, it's Europe) but comfortable hotel room and my basic need for shelter satisfied, I was off to see the city.
It is very easy to find your way through Amsterdam. This city is divided my canals that ring the old city in semicirles radiating outward from the Centraal Station. They are: Herengracht, Keizersgracht, Prinsengracht and the Singelgracht. These semicircluar canals are divided almost straight down the middle by the Damrak (by the Centraal Station), the Rokin (by Dam Square) and the Vijzelgracht (towards the Museumplein). In addition to these major canals, the city is also divided by many smaller ones whose names are equally difficult to spell, let alone pronounce. This makes navigation a snap. Locate the place you are going on a map, count the number of canal intersections that you will have to cross, then start walking!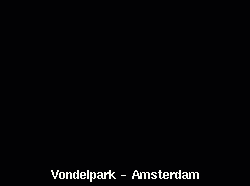 I started with a stroll through Vondelpark (which I could see across the canal from my hotel room) which is named after a 17th century Dutch poet named Joost van den Vondel. The park is similar in size and amenities to Central Park in Manhatten, except that where Central Park is surrounded my Manhatten Skyscrapers, Vondelpark is surrounded by wealthy homes and musuems. The park has bike paths, soccer fields, and a zoo. Although the old city is small enough to be explored entirely on foot (which I did on my second trip), I grabbed the No. 6 tram and headed back to the Centraal Station to start my tour. Well, I didn't quite make it to the Centraal Station. On the ride through the Museumplein, I stopped off at the Stedelijk Museum (Amsterdam's museum of Modern Art). If Picasso, Cezanne, Monet, Matisse and Kandisky are your cup of tea, don't miss this place. There are also a few works by one of my favorite 20's painters, Juan Gris (once again, I must plug the book "A Moveable Feast" by Ernest Hemingway. If you love art deco, Paris, and the lost generation, this book is a must read).
One of the coolest features of Amsterdam is the architecutre. Most of the buildings are houses or warehouses built in Amsterdam's Golden Age when it was the world's leading commercial center. Amsterdam was built so that a mechant's ships could sail right up a canal to his house or warehouse to load or unload goods. The canal system and the low lying ground (Schipol Airport is actuall on a dry lakebed that is actually several meters below see level) made for difficult construction. Most of the city is actually built on huge beams of wood that were driven deep into the marshy ground to provide a solid platform on which to build. Because of this, most buildings in Amsterdam are only about 4 stories tall. The convention seems to be "very narrow"...most house lots in Amsterdam are about 20ft wide. In fact, Amsterdam lays claim to the smallest house (or so they say) in the world. The other prominant feature feature in Amsterdam is the gable. Each house has an elaborate gabled roof. On each gable, there is a huge beam that thrusts itself out from the house, on which hangs a pulley. If you want a piano on the third story of your house, no problem. Rig up the pulley, take out the window and hoist away! This ancient tradition seems to be prevalent in even the newest construction in Amsterdam.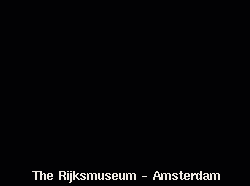 Even though language was not a problem, tradition dictated that I begin my adventure in an Irish Pub...and I found one a few blocks to the left of the Centraal Station. After a few pints of Guinness to warm the soul, I headed up the street to explore the Red Light District. I figured that since I had cultured myself at the Stedelijk Museum, I could justify a tour of the Capital of Sin. While I was prepared for potheads, strung out junkies and ladies of questionable reputations, I found the Red Light District to be very civilized. After a Heineken at the world famous Bulldog (forgoing the generously offered menu of cannibis in several flavors), I explored this area just to the East of Dam Square. It is easy to see how the area got it's name (and others like it around the world). Almost every alley in this area had rooms with a solitary window and a red florescent light above it. If the light was on, you could look in the window and see women sitting there waiting for customers. Looking seemed to be a very common pasttime!
Next I headed west to Dam Square, the second busiest place in Amsterdam after the Centraal Station. Dam Square is a large area of shops and, well...people. It also boasts the Royal Palace (which incidently, is NOT the royal palace. Queen Beatrix actually lives in Den Hague. This Royal Palace was actually built as a town hall and was only used as a Royal Palace when Napoleon's brother was crowned King of the Netherlands. I then headed further West to check out Anne Frank's house. This house in the Westerkerk Quarter is the famous house where Anne and her family hid unsuccessfully from the Nazis in World War Two. I decided not to wait in the enormous line to visit the house, and settled for a walk by the house and a beer at a local cafe.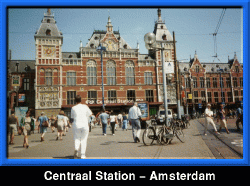 No visit to Amsterdam would be complete without a visit to the Rijksmuseum. Be sure to buy a Museumjaarkart pass which gives you a year of access to almost all of the museums in Amsterdam and quite a few scattered throughout the Netherlands as well fo a measly $25 US. This giant museum just off the Singlegracht near Vondelpark is one of the Netherlands' largest museums. While I prefer modern art (with the possible exception of Piet Mondrian...I just don't get his stuff), this place has plenty to offer, including it's centerpiece: Rembrandt's "Night Watch". There are plenty of other paintings from Amsterdam's Golden Age too including Paul Rubens. It's actually quite funny. Growing up in Sarasota, Florida, I have probably seen more paintings by Rubens than any other artist. The Ringling Museum in Sarasota is full of them. Of couse, there was one other place that I had to go to really fulfill the Amsterdam experience: the Heineken Brewery (or as they spell it Brouwery). This imposing building is just a short walk east of the Rijksmuseum.
The world is changing, and Amsterdam is no exception. Be sure to stop by one of the numerous Internet Cafe's throught Amsterdam (and Europe for that matter). I checked one out a few blocks south of the Rijksmuseum. For $2 you can have a espresso or Heineken and surf the net for 20 minutes to catch up on all that e-mail that's waiting for you back at the office (this is here to prove to my co-workers that my trips are not all fun and games). These places are extremely popular with youngsters whose parents have sent them off backpacking in Europe for the summer (OK, my parents never did this, but you can be sure that I will send my kids, when they arrive).
One of the simplest pleasures in Amsterdam is to sit outside a brown cafe (named for the interior. Years of tobacco smoke have stained the walls a pale ocher color) and have a beer and watch the city flow by. This is one thing that is missing in America. We are so busy that we never take the time to just sit and watch the world. Be sure to have some fries too. I don't know why they are called French Fries in America, since they are pure Dutch. Authentic Dutch french fries are served in a paper cone and drenched with mayonaise. Yes, mayonaise. This is suprisingly good. It reminds me a my buddy Mike back in high school who used to eat them with mayonaise and mustard. He must have been Dutch in a previous life! For another typical Dutch treat (no pun intended) try raw herring available at kiosks and from streetside vendors everywhere.
---
Other Destinations
---
| | | | |
| --- | --- | --- | --- |
| Big Sur, California | Lisbon, Portugal | Paris, France | Madrid, Spain |
| São Paulo, Brazil | Caracas, Venezuela | Amsterdam, Netherlands | Arnhem, Netherlands |
| Nassau, Bahamas | London, England | Curaçao, Netherland Antilles | Santiago, Chile |
| Edinburgh, Scotland | Vancouver, British Columbia, Canada | Hyderabad, India | Rome & Florence, Italy |
---
© 2003 - Todd L. Holsopple
All photographs and HTML content are protected by copyright and may not be used without written permission from Todd L Holsopple. Please feel free to link to these pages without permission.
---
Web site hosted by http://www.ipowerweb.com