---
Nassau, Bahamas 02-July-1999
---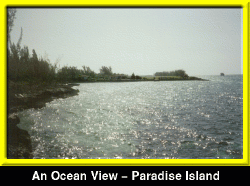 I was excited...a trip to the Bahamas for Work (read this as "All expenses paid"). Well...it turned out to be just that...Work! I really didn't get to enjoy any of the things that the Bahamas is famous for. For me, it was much like living in Florida: Hot and humid! This being said, I must admit that I did enjoy what little free time I did have. Of course there are the beaches and the associated watersports (surfing, windsurfing, paragliding, jet skiing, etc), but the most I got to enjoy (and it was very enjoyable) was a walk on the beach at night. But there is much more to the Bahamas. There is the newly constructed Atlantis: A Hotel, Casino, nightclub, Mall, Aquarium and Research Center all rolled into one. Then there are the friendly natives, the cool little shops and the relaxed atmosphere of simply being in the tropics and enjoying life (after work for me, of course).
I arrived into the Nassau airport late in the evening (NOTE: If travelling to the Nassau, and you are staying on Paradise Island, fly into the Paradise Island Airport if at all possible. You will save yourself a 45 minute taxi ride and it's worth the extra money. If you are staying at Sandals or one of the other destination singles places on the main island, then the airport in Nassau is just fine and the ride to Cable Beach is pretty short) and took a taxi to Paradise Island.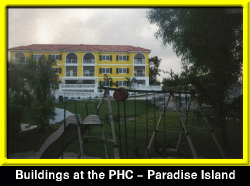 All of the things you have heard on TV or in the movies are correct: It does take a little time to actually understand the natives (in this case, the taxi driver), but after a while you get used to the relaxed way of speaking and simply go with the flow. As I mentioned before, the natives are super friendly. When I arrived at my hotel, there was a problem: They had my reservation, but (apparently) I had neglected to let anyone know that I would be arriving late (in their defense, the flight was a bit late) and there was no one at the check-in desk to check me in. The taxi driver could have taken off, but instead he waited with me until the club was able to find someone to let me in.
This is just one of the little things that make the natives so great. There seems to be a kind of National attitude towards tourists: (or in this case, business travellers). People realize that tourists bring in lots of cash to support the local economy and they go out of their way to make them feel at home. This is more than I can say for Florida (where I grew up). We spent most of our time complaining about the tourists and the traffic jams, etc. In the Bahamas, this is accepted as a normal part of life. (NOTE: The above paragraph was not sponsored my the Bahamas Tourism Board. I (unfortunately) received no compensation for the above statements).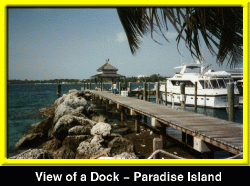 When I wan't working, I spent most of my time at the Atlantis with a business associate who was working in the Bahamas as well. Since I can go to Reno or South Lake Tahoe anytime to gamble, the Casino was merely of passing interest (besides, I like craps and the minimum limit was simply a little too rich for my blood). It's interesting to note that locals are not allowed into the Casino. This is probably a good idea: Let the tourists blow all of their money in the Casino instead of the locals. Besides the Casino, I was most impressed with the Aquarium at the Atlantis. Maybe I had better explain. The Aquarium (and Research Center) is not a separate part of Atlantis. It's more accurate to say that Atlantis is built around the Aquarium. Most of the restaurants, shops and lobby areas have views into the Aquarium rooms which are all linked together so that the fish and other aquatic life have the abiility to move around all of the tanks. Supposedly, there are sharks in the tanks, but in speaking to one of the workers, they said that they were moved into one of the labs because one of the sharks was pregnant and about to give birth. Underneath Atlantis, there are tunnels that you can walk through to get closeup views into the tanks. This place blows Sea World away. They pump fresh sea water into the tanks all of the time and there are an incredible number of fish to see (Check out the eel tank...very cool).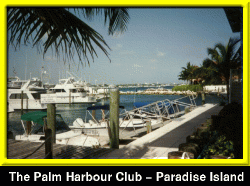 If your tastes run to shopping (and you are loaded with cash or credit), the shops in Atlantis will not disappoint. There is everything from Cartier to Gucci (if that's spelled wrong, don't blame me. I'm not wealthy enough to shop there!). The restaurants are good as well. There was one in particular that was the largest buffet that I have ever seen and included all sorts of fish, meat, pasta, soups, salads, deserts, etc. Quite a meal.
Next time I go back, I want to do it for a vacation, not work (or at least schedule some vacation time at the end of the project). I have friends that have done some dives in the Bahamas and say that certain dives (like the Shark Encounter) are not to be missed. During the day on my taxi ride back to the hotel, I looked at the crystal clear water (even in the Harbour with its busy Cruise Ship traffic) longingly. Since I grew up in Florida, I have an extreme aversion to water that is not at least 88 degrees farenheit so the Bahamas are perfect for me ( I am dreading the open water test to get PADI certified in February, wetsuit or no wetsuit. No one even swims in Monterey because the water is around 46 degrees). I also want to spend more time at "The Poop Deck". Their grouper fingers are incredible and not to be missed. Also, try a Miami Vice: a luxurious mixture to half Pina Colada and half Strawberry Daquiri.
---
Other Destinations
---
| | | | |
| --- | --- | --- | --- |
| Big Sur, California | Lisbon, Portugal | Paris, France | Madrid, Spain |
| São Paulo, Brazil | Caracas, Venezuela | Amsterdam, Netherlands | Arnhem, Netherlands |
| Nassau, Bahamas | London, England | Curaçao, Netherland Antilles | Santiago, Chile |
| Edinburgh, Scotland | Vancouver, British Columbia, Canada | Hyderabad, India | Rome & Florence, Italy |
---
© 2003 - Todd L. Holsopple
All photographs and HTML content are protected by copyright and may not be used without written permission from Todd L Holsopple. Please feel free to link to these pages without permission.
---
Web site hosted by http://www.ipowerweb.com