---
London, England 24-November-1999
---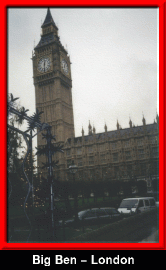 OK...I'll have to admit that the idea of celebrating Thanksgiving (a uniquely American Holiday) in the UK was a bit strange. But the fact that I would be celebrating it with friends (including a recent expatriate) left me with few doubts about the authenticity of the holiday. I had been to the UK only once before and only to change planes on the way back to the States from Lisbon, Portugal. Heathrow is one of the largest airports in the world...you seem to taxi endlessly upon arrival and pass almost every type of plane known to man from just about every nation on the planet. Try to catch a view of the Concorde (British Airways has a few...so does Air France). Wow...only 130,000 more miles on British Airways or 110,000 more miles on Air France for that Concorde Frequent Flyer ticket! My British Airways flight from San Francisco (10 and 1/2 hours) was pleasant and the customs and immigration were a breeze. My first challenge in London was navigating my way to my friends' flat via train, subway, foot, etc. First of all there was the 'Heathrow Express'...15 minutes (20 minutes from British Airways at Terminal 4) to Paddington Station. From there, it was the District Line Tube down to Wimbledon then Southwest Train service south to Raynes Park and a short walk to the flat. Ok...it sounds easy, but it was actually about 2 hours worth of travel to go about 30 miles. Oh well. Thanksgiving turned out to be great: Turkey, stuffing, mash potatoes and stuffing plus plenty of appetizers.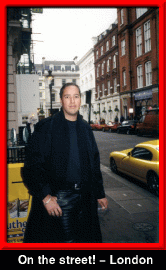 I absolutely loved my friends' flat: Hardwood floors, Canary yellow walls with picture rails, royal blue furniture, and a great view. The Canary yellow walls and the blue furniture made the whole place feel like a Van Gogh painting minus the distinctive brushstrokes. Normally I am not a big fan of antiques (just ask my mother about my indifference to the antiques in her house), but antiques in England are much different from antiques in the States. Kirsten, I want your dining room table! In England, everything is an antique and therefore doesn't cost as much as antiques in the States (of course, there are those kind of antiques too, but if you make what I make, you can only look at those kind of antiques). There is old and then there is old! We went to Portobello Road in Notting Hill to check out the antique market. Mom would be in heaven: everything you could possibly want was available from Victorian Jewelry to anything made of silver, to furniture. Two pieces of advice...if you go, take LOTS of money, and make sure you have enough to ship everything back to the States as well (which will probably cost more than the item, in most cases). Make sure to bring along an empty suitcase if you want to forgo the shipping issue, but be ready with your excuses when passing through customs on the way back to the United States!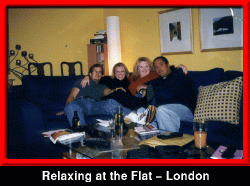 Markets, markets, markets! Forget the museums and the tourist attractions and head to a market and buy things. If Portobello Road has the antiques, then Camden Town has the hip stuff and antiques (make sure you get a pair of boots that will set off the metal detector in the airport...you can pick these up anywhere in Camden). This place is really funky. At night, it feels like you are back in 1970's punk scene: Mohawks, orange hair and Doc Marten's rule. There are al kinds of funky clothing stores (unfortunately, I was unable to find the purple camo pants in my size), used music stores (the most impressive collection of house, trance, techno, ambient, electronica, etc that I have ever seen in one place) and pubs (check out the 'World's End' pub to just to the left of the Camden Town Tube Station) here. Go on a Sunday afternoon to Camden Town. Take a right out of the Underground station and head up until you see the lock on the left (an actual manual lock...people navigating the river on barges pull into the lock, get out and manually crank the gates shut then activate the pumps to raise or lower the water level, depending on the direction on travel)...the market is on the left behind the lock. This place is great! The market consists of thousands (probably) of stalls in an area that looks somewhat like an old prison. Many of the stalls are located in darly lit rooms that look and feel like caves. All the little alleyways are cobbled streets. You can find anything here: shoes, clothing, music, indian rugs, african antiques, furniture...you name it.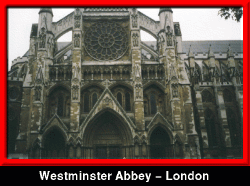 There is one place in particular that gets special mention: Cyberdogs. This place is really cool. Pounding Trance, Techno and House music greet you as you enter another world. Stop at the Internet Cafe in the front of the place, then check out the weirdest clothing selection (or normal if you happen to frequent the underground club scene) you've every seen. Latex pants and bubble wrap shirts, anyone? All of the decoration in this place is best described as "Mutant technology on acid". Circuit boards plaster the walls, wires stick out of everything. Black lights are everywhere. There are many different rooms in this place, and each has it's own little theme. There is even a little museum where someone is always working on decoration for the place. Ever wonder where your old 386 motherboards go? They probably ended up decorating the walls of this place. Oh, and another thing: you will need to leave Camden Town from another tube station. Camden gets so crowded on Sunday that they close the Camden Town tube station from departing traffic on Sunday at 2:00 pm. After cruising the stalls, take a left from the main market entrance and walk about a half a mile (staying on the left) to hit the Chalk Farm tube station to head back into Central London.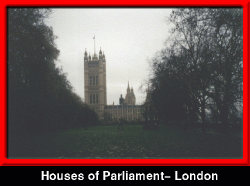 Another market worth checking out is at Covent Garden in central London (by the way...when they give you a choice to taking the stairs or a lift to get out of the Underground, take the lift even if there is a wait. Let's just say this: The Covent Garden station has 198 steps to get out (approximately a 13 story building) and the Chalk Farm station has even more. The moral of the story: Save your legs and take the lift). Covent Garden used to be a vegetable market for monks but now is a thriving market for just about everything. While you are there, check out the London Transport Museum...definitely worth the visit. Head around the corner to the right, and take the next right to the Coach and Horses pub to have a pint of Guinness fresh from the brewery in Dublin (almost every other pub in London serves Guinness from a brewery in London).
But let's not forget Knightsbridge. Any visit to London would be incomplete without a visit to Harrods in Knightsbridge (take a left out of the Knightsbridge Tube Station and walk about 50 yards). To truly experience this shopping orgy to it's fullest, reserve an entire day, take about a dozen porters, and a second mortgage on your house...you can spend it in about five minutes at Harrods. I squeaked by with a few souviners: an Art Deco, silver cigarette case, a pewter and glass hair clasp and a book on Europen History (Harrods has a better selection of books than most of the Bookstores that I visited in London). Harrods has 5 or 6 floors (maybe more...I was so totally exhausted that I forget exactly) with everything from Bosendorfer Grand Pianos to, >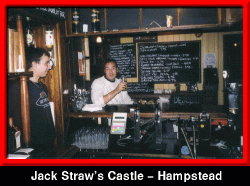 fine crystal, furniture, books, clothes...you name it. They have a saying at Harrods: 'If you can't find it here...it probably doesn't exist.' After what I saw, I agree with them. Their selection of crystal was amazing (and so were the prices). Imagine the price of a common item in the United States. then, convert imagine that in pounds (without actually doing the conversion. i.e. 20 dollars = 20 pounds, which would be something like 32 dollars), then double that amount. This seems to be the pricing policy at Harrods. You may be able to find anything at Harrods, but odds are you won't be able to afford it.
Ok, that gives us a nice segue into the subject of pubs. It's hard for the uninitiated American to image how much pubs are a part of a Londoner's daily life. It's a place to grab a bite to eat (try the Bangers and Mash, Steak and Kidney Pie and other native fare), and to have a pint with friends, anytime of day. Besides the requisite Guinness, there are other things to try too. Have a pint of Cider (Strongbow, Blackthorn and Woodpecker are a few of my favorites), or a real ale. Real ales are actually hand pumped from a keg directly below the bar. Or try a shandie: a mix of soda water and real ale (real ales are naturally flat, hence the hand pumping). Or try other things: a black and tan, a Snakebite in Black...the possibilities are endless. If all else fails, and you are feeling homesick, Jack Daniels seems to be in abundance in London (go figure).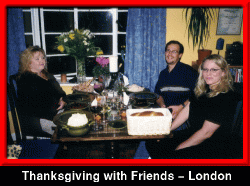 One of my favorite pubs (along with the 'World's End' in Camden Town) is Jack Straw's Castle at the top of the hill in Hampstead. Get off the Northern Line (Edgware branch) and take a right outside of the station. Walk to the top of the hill, and Jack Straw's Castle is at the top of the hill, just past the pond on the left...you can't miss it. Say hello to 'Murphy' and tell him that Todd sent you! This place actually has some history. Apparently, Jack Straw was a little upset at the Mayor of London over taxes, so he organized a band of folks to march on down to London and destroy the tax collector's offices. Well, eventually he returned up the hill and barricaded himself inside the place, and was eventually hanged on the spot for his actions. Nobody remembers that anymore, and Jack Straw's is a great place to have a pint and sit by the fire and just relax. Try the food too!
And then there is the transport system. From trains, to double-decker busses to the tube, there are hundreds of ways to get anywhere in London. The trouble is that sometimes you have to use a combination of the above to get where you want to go. I had to take the train from Raynes Park to Waterloo and then connect to the Underground to get anywhere in Central London. Taking a 'black cab' is quite an experience. These cab drivers are licensed through the city and are required to pass an 'insane' exam on their knowledge of the city's streets, neighborhoods and history. There are plenty of other cabs too...basically a 'free market economy' type thing. There are several tube lines running around London. I primarily stayed on the Northern line (linking Waterloo Station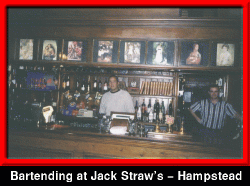 with points north: Leicester Square, Tottenham Court Road, Camden Town, Hampstead and others), the District Line (with such stops as Paddington Station and points south to Wimbledon) and a few others like the Victoria Line, the Bakerloo line, the Central Line...too many to manage. The best thing to do is get a map of London's bus and tube routes, then get a weekly travel card (makes a great souvenir too, since you get a little ID card with your picture on it as well). Just make sure you watch to make sure that you are going the right direction, and watch out for lines like the Northern line that split and have two different routes. Watch the top of the incoming train to verify which branch it will be traversing. The buses are a great way to see London. Your weekly travel card will get you on busses too, and although their routes can be confusing, just get on one (doesn't matter where it is going) and ride up top...the view is definitely worth it.
As far as historic sites go, I visited only a few. I recommend taking the tube to Charing Cross or Leicester Square then walking from Trafalgar Square down Whitehall to the Houses of Parliament on the Thames. Check out Big Ben, then head back up to Trafalgar Square (stopping for a view down Downing Street to try and catch a glimpse of the Prime Minister), then head down to Buckingham Palace to catch the changing of the guard. Aside from this, I really didn't do much historical sightseeing (since I can always go back). I was pretty much content to hang out in pubs and markets and just enjoy life.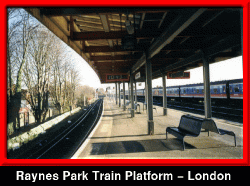 The main problem for me in London was time. I was there 11 days and I didn't even begin to see all of London. You could kill your liver trying all of the pubs or wear out your feet visiting all of the museums. No matter what I did each day, I was worn out: London is a huge city and just navigating the city can take all of the evergy you have. There are a few places to hit next time I go: London Bridge, Buckingham Palace, Greenwich, St James's Palace (home to Prince Charles), Kensington Palace (former home of the late Princess Diana) ...the possibilities are endless. Then there are the side trips: Dublin, Edinburgh, Bath, Stonehenge, Brighton...all are respectable day trips and relatively cheap.
You might even consider London as a jumping off point for the rest of Europe. Airfares to London from the United States are usually cheaper than any other destination in Europe based on one simple fact: There are a staggering number of flights into London. Gatwick Airport (to the south of London, about a third of the way to Brighton) handles only slightly less air traffic than Heathrow. When you consider that a train ride through the 'Chunnel' to Paris is about 4 hours and costs, roughly, 120 dollars round trip (from Waterloo Station in London), exploring the continent seems within reach to even the most budget conscious traveller. Since I travel quite a bit to Europe for work, I'm trying to arrange all my flights through London (gotta get that Concorde trip for free on British Airways).
---
Other Destinations
---
| | | | |
| --- | --- | --- | --- |
| Big Sur, California | Lisbon, Portugal | Paris, France | Madrid, Spain |
| São Paulo, Brazil | Caracas, Venezuela | Amsterdam, Netherlands | Arnhem, Netherlands |
| Nassau, Bahamas | London, England | Curaçao, Netherland Antilles | Santiago, Chile |
| Edinburgh, Scotland | Vancouver, British Columbia, Canada | Hyderabad, India | Rome & Florence, Italy |
---
© 2003 - Todd L. Holsopple
All photographs and HTML content are protected by copyright and may not be used without written permission from Todd L Holsopple. Please feel free to link to these pages without permission.
---
Web site hosted by http://www.ipowerweb.com