---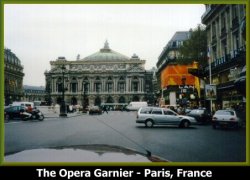 Paris, Paris, Paris...where does one begin? Why, at the beginning, of course! I had been to Paris (if you can call it that) only once before...to change planes at Charles DeGaulle Airport on the way to Lisbon, Portugal. At that time I was impressed with the airport (I just couldn't wait to see the city itself). So after a grueling 4 days of instructing (for work) in Memphis and Atlanta, I was off on the overnight trip to Paris to hang out for a few days before I had another job in Madrid, SPAIN.
For those of you who are not travel veterans (or those who simply do not like plane rides): Do NOT be put off from visiting Paris (or any country for that matter) by the 9 and 1/2 hour plane ride (and that's from the East Coast!). The plane ride is not fun, but there are ways to make it more enjoyable. Use my trick: Don't sleep the night before (this also helps with jet lag). This way, after a few complimentary cocktails abord the plane, you'll be able to sleep like a baby. This also sets your sleep cycle correctly, if you take a night flight. You will be waking up as you are landing in Paris and (hopefully) you have just had a 7 hour (or so) nap. After arriving at Charles DeGaulle, I had the arduous task of finding and taking the RER (the train) into Paris.
This may seem like a simple thing to Americans, but when you factor in getting the local currency (by the way...an ATM is the best way to go. It gives you the straight exchange rate with no commission, although you can only withdraw in the local currency, so be sure to know what 1000 francs converts to in US Dollars, or you may end up withdrawing too much or too little), asking someone (in French, of course) where the train station is, actually buying the ticket (speaking French again) and then boarding the train, storing your luggage, etc, etc.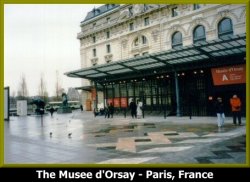 This is by far the most stressful part of the trip, in my opinion. Dutifully ensconsed on the RER, I next scoured my maps (pick up the free maps of Paris in the Airport...they are great!) to find my stop. I finally arrived and after an interesting experience trying to get my luggage through the gate, took the escalator up to the street and voila...I was right across the street from Nôtre Dame ! Wow. In my haste to get into the city, I misjudged my RER stop by one, so I ended up hauling my luggage across the Seine, down the Boulevard St.-Germain, over a block on the Boulevard St-Michel and then on to Rue Racine and into my hotel.

If I would have blinked, I would have missed it. It was a quaint little place that I had found in "Europe from $50 a day" called the Hôtel de la Faculté. It had mentioned that it had a miniscule lobby leading to a tiny elevator...understatement of the year. I could not walk beside my luggage in the lobby, and when I went to the elevator, I found that only my luggage would fit so I took the winding staircase that went around the elevator. My room was not quite ready yet, so I plopped my luggage in the common room and headed a few blocks down the Boulevard St.-Germain to the Jardin du Luxembourg to hang out for a while. I was quite excited to visit the Garden, since (being an avid Hemingway fan) Hemingway used to write here when he lived in Paris in the 1920s (read " A Moveable Feast" sometime!). So, after grabbing a cup of espresso on the way, I popped into the garden for a while to watch people sailing toy boats on the fountain in the center of the park, and took some pictures of the building that used to house paintings by Cezzanne back in Hemingway's time (which now houses the French Senate).

I then headed back to the Hotel (where my room was ready) when a friend who was in Paris on business stopped by with two tickets to the Moulin Rouge in hand. After stopping by her Hotel so change, we had a fabulous dinner at this little place the 7th arrondissement including escargot, de Fois Gras, oysters and veal (not to mention a few bottles of wine...the Sancerre was fabulous and so was the Bordeaux). The Moulin Rouge was interesting, being the original Caberet. After another bottle of Bordeaux, all that was left to do was to take a cab back to my hotel.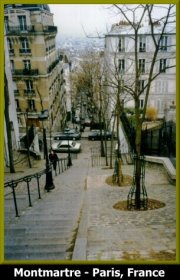 I got up early and took the Métro out to the Trocadéro and then walked down to the Eiffel Tower. I was actually not that impressed. I mean, hey...it's a landmark of Paris, but when you get right down to it, it's just a giant metal tower. Besides, the tourist industry (even in the winter) is almost sickening. I headed back up the Trocadéro, up the Avenue Raymond Poincaré, and finally up Avenue Victor Hugo to the Arc de Triomphe.
Now this was impressive. Here is where Napoléon marched his victorious armies. This was the first place Hitler wanted to see (and march along) when the Germans took Paris in World War II. Here was history! I then contined south east along the Champs-Elysées. "I met a little thing along the Champs-Elysées, stole my heart away, but I never could pronounce her name...she didn't mind at all". Not really, but sometimes you must take the opportunity to live out song lyrics. Proof positive that " Last Time in Paris was Strange".
Anyway...I continued down the Champs-Elysées to the Jardin des Tuileries, the massive garden that sits in front of the main entrance to the Louvre, and finally down to the Louvre itself to wait by the giant glass pyramid designed by I.M. Pei as an entrance to the Louvre in 1870. I met my friends again and headed off to a great lunch before taking in sites in and around the Louvre. You can spend many hours here and still not see everything, so if you are going to the Louvre, make sure to allow two days to se it all! We then headed up to the Cimetiére du Peré Lachaise to view the graves of such notables as Frederick Chopin and Jim Morrison of the Doors.
We found Jim's grave (it's what most tourists go there to see) and got a picture or two, then tried (in vain) to find Chopin's grave. This place is huge (probably 3 square miles) and we were never able to find his grave. We then hopped the Métro and headed up to the Basilque Sacré-Coeur, the famous church, and home to the highest point in Paris (it was a great view too, since it was early evening and the lights of Paris...the City of Lights...had just come on). To the west of Sacré-Coeur is a little artist enclave with many (tourist) shops and cafes. There are numerous scetch artist who offer (no...make that demand) to sketch your face. After beating these folks off with a stick, you can cruise around the plaza and view the work of the many talented artists who have set up shop to display their art. Finally finished off the day with an incredible fondue in the Latin Quarter.
Monday, my firends were back at work, which left me alone to explore the city. I started with a literary tour of the Latin Quarter, circa 1920. I explored the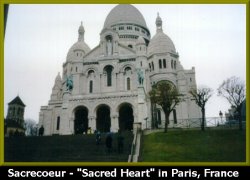 tiny side streets adjacent to the main boulevards of the Latin Quarter: The Boulevard St-Michel, the Boulevard St-Germain, and the Boulevard Montparnasse. I travelled through the Jardin du Luxembourg to 27 rue de Fleurs, the address of one Gertrude Stein (unfortunately I couldn't drop in for eau de vie and a glimpse of the "wonderful pictures" that Hemingway enjoyed). I then headed down the rue D'Assas to rue Notre-Dame des Champs, number 115 to be exact, one of the places that Hemingway lived in Paris. Actually, 115 doesn't exist anymore...it jumps from 113 to 117. Oh well. About 200 yards further down the rue Notre-Dame des Champs is the famous Closiere de Lilas, the cafe where Hemingway did most of his writing while in Paris. The statue of Marshall Ney that Hemingway mentions in "A Moveable Feast" is still there, and the cafe has been transformed into an upscale restaurant and bar. Being too early for a drink, I headed on down the Boulevard Montparnasse to another landmark from "A Moveable Feast", le Dôme ,where Hemingway dined with the painter, Pascin and two lovely models.
I then grabbed the Métro and headed for the Musée d'Orsay on the south bank of the Seine. To my dismay, I found it closed. (Note to travellers: this is the second time in three trips that I wanted to visit a Museum and found it closed. Verify the hours of operation before heading to any Museum.). The Musée d'Orsay was of special interest to me, as it houses more contemporary works of art by artists such as: Cezzanne, Picasso, Van Gough, Juan Gris, and my favorite artist, Tamara de Lempicka. Oh well...I still got to see some work by Picasso, Juan Gris and even Salvador Dali during my business trip in Spain the following week. I headed back up to the Sacré-Coeur to take some pictures, and then headed home.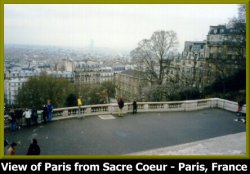 My final day in Paris...what to do...what to do! I basically rode the Métro around to my favorite spots. One major task, of course, was to send postcards. You would be amazed at how long it takes to address and write 22 postcards. Anyway, after a final meal at the Café de Luxembourg (including yet another bottle of Sancerre...I love that stuff), I headed to Gare D'Austerlitz where I was to catch my train to Madrid. I feel that everyone should have the experience of travelling by train. In America, we still don't quite understand this medium of transportations that the Europeans have turned into an art.
The trickiest thing was to find out what to do. Do I get on the train? Who takes my ticket? When can I get on? Whick compartment is mine? Etc., Etc. Well...luckily I found this adorable little french girl in the employ of SNCF, the French National Rail Comany. Looking for a chance to practice her English, she actually put me aboard the train after validating my ticket. The train station itself is quite amazing. Everything that I had read had said that Gare D'Austerlitz was the smallest and least architectually pleasing of the city's train stations, yet I found it quite interesting. My only comparison being the Hoboken station in New Jersey where I had come into from Northern New Jersey on the way to Manhatten. Of course, anything is majestic compared to New Jersey.
---
Other Destinations
---
| | | | |
| --- | --- | --- | --- |
| Big Sur, California | Lisbon, Portugal | Paris, France | Madrid, Spain |
| São Paulo, Brazil | Caracas, Venezuela | Amsterdam, Netherlands | Arnhem, Netherlands |
| Nassau, Bahamas | London, England | Curaçao, Netherland Antilles | Santiago, Chile |
| Edinburgh, Scotland | Vancouver, British Columbia, Canada | Hyderabad, India | Rome & Florence, Italy |
---
© 2003 - Todd L. Holsopple
All photographs and HTML content are protected by copyright and may not be used without written permission from Todd L Holsopple. Please feel free to link to these pages without permission.
---
Web site hosted by http://www.ipowerweb.com