Where: Lisbon, Portugal
When: 14-August-1998 - 20-August-1998
Why: Business Trip
---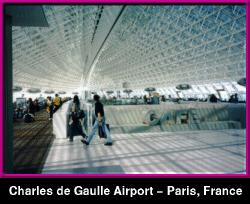 Welcome to my first international travel experience (even though it was for work...hey, you can't be picky in these things, or they will never offer again!). My journey started with the obligatory 11 hour plane flight from San Francisco to Paris. Even Jet Lag and the weird sensation of having night last only about 4 hours (very weird) could not detract from the oh so lovely Paris Charles De Gaulle Airport in Paris, France. My first experience with the French language was not a pleasant one. I had some difficulty explaining to the gentleman in Passport Control the I did not have a boarding pass yet because I had just arrived.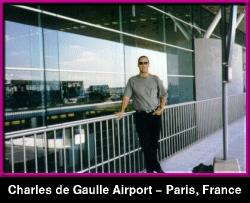 Oh well..he waved me through and the lovely, young lady who controlled the doors to the busses more than made up for this experience. I had a three hour layover in Paris, and got time to take these two photographs (and to find my way to Satellite 3 where my connecting flight was) and to stand in line at the Air France counter for half an hour. This was a really cool airport (given my love of all things Art Deco) and it was great to have time to walk around and people watch (and what fabulous people they were...but I digress!).
I fared somewhat better when I actually reached Lisbon, and my limited Portuguese was put to the test. I knew enough to say "fala inglês"? and (suprisingly) received a smile and a nod. With no trouble at all I was able to collect my luggage and grab a taxi to the hotel (this with a little help from my pre-maid card listing the address!).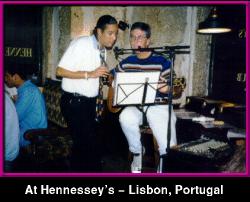 After arriving at the Sheraton Lisbõa Towers and checking in (again with no trouble finding someone who spoke English...as a matter of fact...MOST people I ran into in Lisbon were extremely friendly and spoke at least some English...more, in fact, than I spoke Portuguese!). After meeting a friend and business associate in the Lobby of the hotel, we proceeded to walk down to the Restaradores area for dinner. Dinner was very disappointing (avoid the Jardim Garden if dinning in Lisbon!),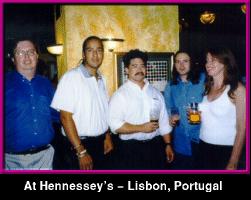 but we ended up walking down from the Restaradores down to the Rossio and on down through the Rossio to the Baxia-Chiado. A short walk from the Baxia-Chiado down the Rua Augusta is the Praça do Comércio. There we found a great little Irish Pub called Hennesey's, in which we proceeded to consume large amounts of Guinness (with a very cool Irish Guitarist who invited us to "sing along"). As it turned out, most of the gang (business associates) ended up hanging out here almost every night we were there! we became "regulars" during the weeks stay and the guitarist would often stop mid-song to yell out a greeting to us as we entered the pub (what nice, friendly folk).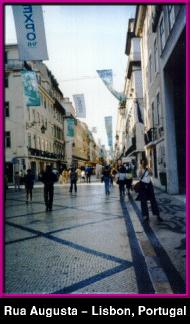 Much to my suprise, Lisbon was a very safe city and I had no problems riding the Metro or even walking the streets at a very late hour. Speaking of the Metro, I was impressed. New York City would be infinitely nicer if their subways looked like this. It was comfortable, affordable and went everywhere that you would possibly want to go in Lisbon from the office were I was working at the Campo Pequeno, to my hotel at the Picoas station then on down to the Restauradores (for food) the Baxia-Chiado (for cool shops along the Rua Augusta) and on finally down to the Cais do Sodré for the train station out to estoril (and right across the street from Hennessey's), and a short (uphill) walk up to the Barrio Alto with it's trendy nightclubs and quaint little restaurants. All of this for 670 escudos a week (about $8). The Barrio Alto can be reached either by walking (always my perfered method of transportation), or via an elevator built by Gustav Eiffel (yup...the same guy who built the tower for the World's Fair in Paris). The Bario Alto itself is a maze of winding little streets and alleys, that are just packed with people (the 'gay' area at the western edge of the Barrio Alto is an 'interesting' experience, even for those of us who are straight). There's always something happening in this area of town. Do yourself a favor, and ignore the discos at the bottom of the hill: You will be rewarded for you hike up the cobbled streets by some of the best nightlife that Lisbon has to offer.
One of my favorite areas was the Rua Augusta. This area of town is really European with old buildings, cobblestone streets, street vendors, cafes, shops, etc. I walked this street many times (the only disturbing event: Two different people tried to sell me hash! My reply? Simple. "No thanks...i've seen Midnight Express"!). This street was bordered on the north by the Rossio and on the south by the Praça do Comércio through a gigantic arch (you can see it in the picture of the Rua Augusta at night). This area of town (along with the Restaradores up beyond the Rossio) was always busy even late at night, since people did not venture out to dinner or to the discos until around 10 pm. During the day there were plenty of street performers to make things interesting, including many African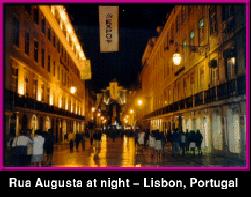 dance troops (many people came to Lisbon from Portugal's colonies in Africa after the country gave up all it's territorial claims in the 1970s). Lisbon hosted the World Expo (as you can see in the banners hanging across the street), Expo '98. This was really cool, since one of my traveling companions had a good friend that was actually in charge of one of the pavilions at the Expo. The theme of the Expo was "The World's Oceans", and many of the pavilions were quite awesome (not to mention the grounds for the Expo themselves, which were huge and include Gondola rides, observation towers, and permanent buildings that housed the pavilions). It's also interesting that Lisbon almost doubled the size of their Metro to accommodate all of the visitors to the Expo. This made for nice, clean, safe traveling...even at night!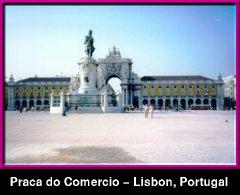 Another of my favorite areas in Lisbon was the Praça do Comércio, or the "Commercial Square" that was down by the waterfront at the southern end of the Rua Augusta. This was a cool place to hang out (day or night) and watch the pigeons (or the people) go about their day life. All around the square were bus stops for various destinations in Lisbon and off to the Northwest, there was a lovely view of the Castelo de São Jorge, a famous castle that was taken from the Moors way back when by the Portuguese. Who would have thought that my first view of a castle in Europe would be in Portugal...Germany, I can see, Portugal (There were actually two castles in the town that my mother grew up in...West Liberty Ohio, but that's another story all together)?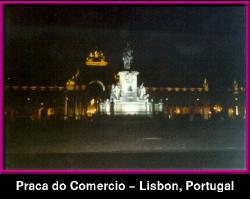 This place looked even more awesome at night and looking south across the River Tagus, you could see the bridge that crossed over into South Lisbon (an almost duplicate of the Golden Gate Bridge in San Francisco. In fact, there are many similarities between San Francisco and Lisbon. Both lie on Major fault lines...Lisbon was nearly completely destroyed in the early 1700s by a massive quake. Both cities are built on a series of hills...the similarities are nearly endless!). Also in view here is the original "Christ of the Bay".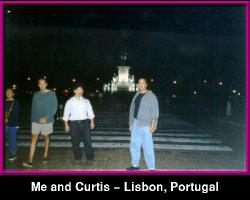 The one in Rio de Janerio is a copy of this original one welcoming back adventuresome Portuguese sailors from their voyages around the world.
To the east of the Praça do Comércio is the Alfama district where the Moors originally lived. In these twisting, confusing streets, you can barely walk side by side with someone. Event the eaves of some roofes actually touch each other over the middle of the street...talk about narrow! For this reason, there is no motor traffic in this part of the city.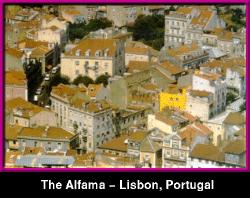 All in all, I had just an absolutely great time here and was very sad to leave (one of the reasons being that the flight back to California is longer going East to West because to the prevailing winds...the Jet Stream. 11 hours non-stop from London Heathrow to Los Angeles, CA...::shudder::).
The food in Lisbon was out of this world (my first dining experience excepted) and realtively inexpensive. Many a night I enjoyed simple dishes such as Gambas (prawns) sauteed in garlic with lots of bread and wine (fabulous!).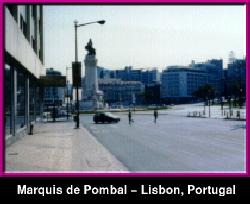 While walking down the Restauradores, I saw (in a shop window) FOOT LONG PRAWNS! Try to get those in California! Also in this area, we ate a few meals al fresco (th only annoyance being street beggars and street merchants selling their wares). There were great discos in the Barrio Alto (even got a chance to try the famed Brazilian drink, the Caipirinha, made from sugar Cane liquor, sugar and lime juice - they taste better than a margarita and pack almost 3 times the punch!). My only regret was not getting up to the Campus Grande for a soccer game or a bull fight (oh well...going to Spain early next year, so maybe i'll get to see one there...just like Hemmingway!).
Update: I had the opportunity to go back to Lisbon again in the spring of 2002. I finally was able to visit the Castle of St. George, as well as drop in on old haunts like Hennessey's (where the same Irish folk singer was still doing gigs, believe it or not). I also was able to walk around the alfama district and I picked up some really nice ceramic house numbers for the outside of our house. Lisbon is still a great place to go in Europe if you don't like crowds or the general 'hustle' of a big city. It's still laid back, and still relatively cheap (just don't stay at the Sheraton). Portugal's entry into the EU and conversion to the Euro appear to have been good for the country (and it makes figuring out dollars a lot easier - Escudos were a pain to convert in your head).
---
Addidional Photographs
[Portuguese do it better] 56.5 kb - a shot of me and a friend in front of an advertisement for certain prophalactic products.Must see it to believe...too bad i'm not Portuguese!
[trolley in Baxia-Chiado] 57.6 kb - a shot of one of the many trolleys and trams that run in and around Lisbon. Just watch out for them if you are on foot!
---
Other Destinations
---
| | | | |
| --- | --- | --- | --- |
| Big Sur, California | Lisbon, Portugal | Paris, France | Madrid, Spain |
| São Paulo, Brazil | Caracas, Venezuela | Amsterdam, Netherlands | Arnhem, Netherlands |
| Nassau, Bahamas | London, England | Curaçao, Netherland Antilles | Santiago, Chile |
| Edinburgh, Scotland | Vancouver, British Columbia, Canada | Hyderabad, India | Rome & Florence, Italy |
---
© 2003 - Todd L. Holsopple
All photographs and HTML content are protected by copyright and may not be used without written permission from Todd L Holsopple. Please feel free to link to these pages without permission.
---
Web site hosted by http://www.ipowerweb.com