---
Vancouver, British Columbia - May 25, 2002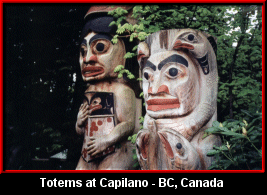 I've always wanted to visit British Columbia. In the late 80's, early 90's it seemed to have become 'Hollywood North', with lots of television programs and movies being filmed there. Of course, the legendary (now defunct) studio "Little Mountain Sound" (think Bon Jovi's "Slippery When Wet" and Bryan Adam's "Reckless") was also in Vancouver. I'd been to Seattle before, I had imagined Vancouver as a little cleaner, and a little laid back. Besides, I figured that grunge music had ruined Seattle...maybe Vancouver was immune to this little tragedy in music history. Well, some friends of my wife had moved from Italy to Vancouver and were demanding a visit. Why not? It was only a couple hour flight to Seattle and a few hour drive up to Vancouver, so we took the Memorial Day weekend plus one day and made the trip.
We flew into Seattle and stayed the night, hoping for an early start the next day. For a great number of reasons, the 'early start' never materialized, but no matter. On a map, the distance between Seattle and Vancouver looks relatively small, but reality is another matter entirely. It's amazing how quickly geography can change in a short distance. Following the Puget Sound north, you go from a lush green oasis (Seattle) into completely flat farmland, then you go past Mount Baker and still more flat land before arriving at the Canadian border. Our first mistake? Well...this was Memorial Day weekend. We didn't realize that the entire State of Washington was planning to cross the border for the weekend. Of course, extra security at the border thanks to 911 didn't help matters either. We ran into completely stopped traffic at the last exit on the Washington side of the border. And we waited....and waited...and waited.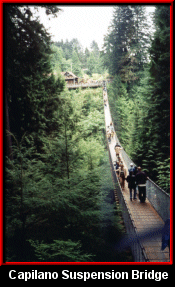 For some reason (obviously there is a purpose to this, although I am not sure why this is), major border crossings between Canada and the United States have the word "peace" in the title of the border crossing: The "Peace Bridge" between Buffalo and Ontario, and the "Peace Arch" between Washington State and British Columbia. I can tell you that there was very little "peace" involved in waiting 2 and 1/2 hours to cross the border. Officials of the crossing apparently had prepared for this little problem (imagine that, forethought in a government agency....will miracles never cease?), as there is a massive "greenbelt" where many children had gotten out of their cars to play while the line inched toward the border. Of course, there was also the unavoidable monument to the lasting peace (ahh...so that's the significance of the word "peace" in the border crossings!) between the great nations of the United States and Canada.
Again, on the map, you expect Vancouver to be visible immediately after the border...but it's not. Just mile after mile of empty farm land. Eventually, you come to a tunnel...a rather long tunnel. At the other end, you come up into the suburbs of Southern Vancouver. Quite a shock, considering you can't see the city when you enter the tunnel. In terms of transportation, Vancouver reminds me of San Francisco and trying to get from the airport across the Golden Gate Bridge: there is no highway that runs through Vancouver. Soon after the tunnel, you are forced to find the way to your destination via surface streets. After a few bridges and some light industrial buildings, you find yourself in an immense sprawl of rather attractive residential areas.
I've always loved Northwest style architecture, from the Victorians to Arts and Crafts style, to Indian hunting lodge and log cabin...they all appeal to me. I love the muted colors: subdued shades of blue, green and even a dark maroon seem to be on every building. Our friends were holed up in the very nice and bohemian area of Kitsilano, a bit to the southwest of the city center. There were lots of parks, tons of trees and Victorian homes with beautiful gardens everywhere you looked. They were also about 3 blocks from Kitsilano Beach. Trees...lots of trees....that was my first impression. Vancouver looked even more "green" than Seattle did.
The next day we set out sightseeing. The night before my wife was busy getting reacquainted with her friends, speaking a mixture of Italian and Spanish (my Spanish is terrible at best - although I do manage to follow at least the topic of conversation if not every word). Between the four of us, I speak only English, my wife English, Spanish and Italian, and between our friends English, Spanish, Italian and French for one and Spanish and Italian for the other. Interesting! We started out our sightseeing by walking down to Kitsilano Beach. This is a really cool, funky little area with a "salt-n-pepper" type sand. Close by is a gigantic salt water swimming pool that looks like it could quite literally hold about 2,000 swimmers at any given time. This thing is many times the size of an Olympic size swimming pool. Further down the beach towards downtown are the volleyball courts, where we saw several games in progress, despite the cloudy skies and temperatures in the mid 60's. I guess these Canadians define cold weather a little differently from those of us from Florida and Venezuela!
Next up was a little park and the eastern edge of Kitsilano Beach complete with really cool looking Totem Poles outside the Vancouver Maritime Museum. We walked around the southern end of the Georgia strait until we hit False Creek, a body of water that looks like a river, but actually dead-ends in downtown Vancouver. The headland between Kitsilano Beach and False Creek is a giant, open park. We walked around the perimeter catching our first view of downtown Vancouver and Stanley park across the inlet: Vancouver is definitely cleaner (and if possible, greener) than Seattle...the buildings of downtown positively gleam. Just a little further south along False Creek is Granville Island, which is part Marina, part Bar and Club scene and part flea market....no joke! On the weekends a craft/flea market flourishes here. We arrived late in the day and had to settle for dinner in one of the many waterfront restaurants. Of course, we were now quite a distance from our accommodations and had to take a taxi back to the house.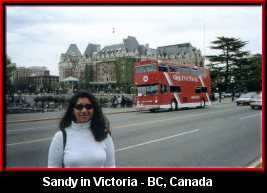 The next day, we explored Downtown Vancouver, Stanley Park and the Capilano Suspension bridge. Stanley Park claims to be one of the largest metropolitan parks in the world. It occupies the entire north western peninsula of the city. In fact, if you were approaching Vancouver from sea, you would be hard pressed to say that there was a city behind the massive evergreens in the park. The park is full of walking and biking trails and you can even take a horse-drawn carriage ride around the park. Their is a major road running through the park to the Lion's Gate Bridge (think of the Golden Gate Bridge painted blue/green and with only 2 lanes) which leads over to North Vancouver. In North Vancouver, we drove up into the mountains to the Capilano Suspension Bridge. This 450 foot long footbridge spans the Capilano river, 230 feet below. Despite the fact that the bridge is constantly moving as you walk across it ( swaying in the wind and "bucking" due to the pedestrians on the bridge), a good look at the 13 ton concrete anchors on either end of the bridge do a lot to assure you that you will not be flung from the bridge. Of course, you still feel the up and down motion while clinging to the sides of the bridge for dear life!
We then headed back into Vancouver to explore Gastown. Gastown is a cobbled street where Vancouver began. The highlights of this area include a steam powered clock in a square in the middle of the street which whistles loudly on the hour. There are plenty of art galleries, clubs and restaurants to explore here too. At the end of the street we took a right and headed up to Chinatown through what our friends quite accurately called "Zombie Town". Every city has its bad section and this is Vancouver's own little slice of Heroin Hell. Junkies, junkies and more junkies. Apparently, they are quite harmless, but I don't think I'll be walking through this part of town at night any time soon. Chinatown (to those of us who live within a couple of hours of San Francisco) was a little disappointing, if not more authentic than San Francisco's. We then headed to the Harbour Centre Tower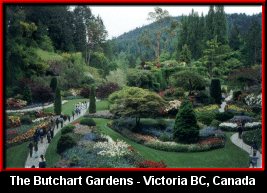 The next day we decided to take a ferry ride out to Vancouver Island. We drove from Vancouver south to Tsawwassen where we caught the ferry to Swartz Bay. This ferry ride takes a couple of hours. After parking the car below decks, we headed up top for a magnificent view of the bay. You can't make out the island that you are headed to until about a third of the way across the channel. There are numerous little islands out here and the water around them is smooth, silent and black. You aren't alone out here either...there are plenty of yachts and sailboats to keep you company. We had a breakfast buffet in the dining compartment which also helped to pass the time. The ferry loading and unloading docks are quite interesting: you buy your tickets, then you queue up in lanes until it is time to load. The whole process is pretty streamlined and is quite impressive. Once we landed at Swartz Bay, we headed to the world-famous Butchart Gardens. This sunken garden started out as a limestone quarry for the Butchart family, and when exhausted, was filled with top soil and plants....lots of plants...over 1,000,000 plants (700 different species) fill the quarry. The gardens are mostly an English style garden with lots of random beds, but they also have Italian and Japanese specialty gardens on the property.
We then headed down to the city of Victoria. Victoria is dominated by two things: The Legislative Buildings (which don't seem to really have an official name other than "Legislative Buildings") and the Empress Hotel. The "Legislative Buildings" seem to have been ripped directly out of London, a fact that the double-decker busses that zip around the relatively compact town (it seems a bit much to call this area of 75,000 people a city) seem to lend credence to. These buildings have stately parks in front of them that were crowded with tourists and locals alike. The other main attraction is the Empress Hotel...an imposing Edwardian structure that somehow looks more appropriate to Paris or even Montreal than in the Pacific northwest. We took a stroll through the interior but declined the traditional high tea service: $40 (US) seems a bit steep for some tea and cucumber sandwiches. We also walked the side streets near the hotel and even passed through Victoria's Chinatown, which is actually more like San Francisco's than Vancouver's Chinatown. My only disappointment was that the whole atmosphere seemed like Disneyland: it's not a real city, it's a tourist destination. We then drove back to Swartz Bay to catch the ferry back to the mainland, but had misread the schedules and ended up waiting about 2 hours for the ferry. Not much to see this time, since the sun had set.
The next day we bid Vancouver farewell. This time, there was absolutely no one at the Canadian/US border and we sailed right through. We spent the rest of the day in Seattle, taking in the Space Needle and a fantastic dinner in West Seattle.
---
Other Destinations
---
| | | | |
| --- | --- | --- | --- |
| Big Sur, California | Lisbon, Portugal | Paris, France | Madrid, Spain |
| São Paulo, Brazil | Caracas, Venezuela | Amsterdam, Netherlands | Arnhem, Netherlands |
| Nassau, Bahamas | London, England | Curaçao, Netherland Antilles | Santiago, Chile |
| Edinburgh, Scotland | Vancouver, British Columbia, Canada | Hyderabad, India | Rome & Florence, Italy |
---
© 2003 - Todd L. Holsopple
All photographs and HTML content are protected by copyright and may not be used without written permission from Todd L Holsopple. Please feel free to link to these pages without permission.
---
Web site hosted by http://www.ipowerweb.com